Sebuah bom yang tidak meledak di Gaza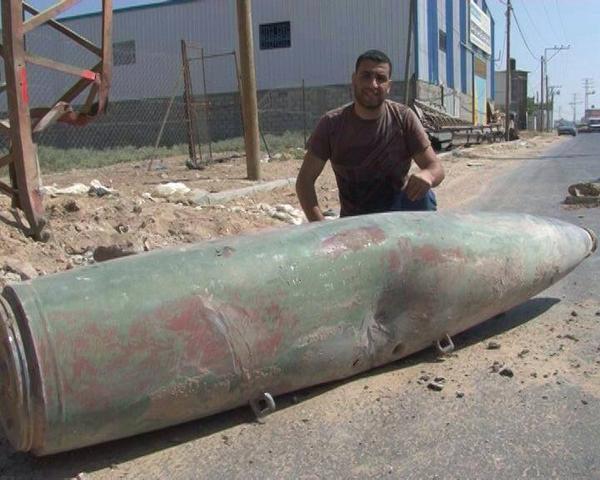 Tipenya apa? Kalau melihat ukurannya, kemungkinan tipe Mark 84. Berikut ini foto-foto Mark 84, silakan dibandingkan.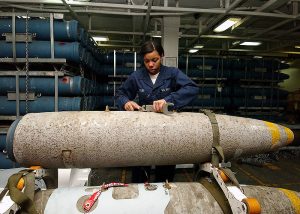 Berikut bom serupa produksi Amerika: Mk 81, Mk82, Mk83 dan Mk84
Dari pengamatan sekilas, bom tersebut adalah Mk 84 dengan berat peledak 2000 lbs , sekitar 1000 kg. Sirip di belakangnya nampaknya copot ketika bom tersebut jatuh.
Seberapakah daya hancur bom tersebut? Berikut ini kutipan dari wikipedia:
The Mark 84 is capable of forming a crater 50 feet (15.2 m) wide and 36 ft (11.0 m) deep. It can penetrate up to 15 inches (381.0 mm) of metal or 11 ft (3.4 m) of concrete, depending on the height from which it is dropped, and causes lethal fragmentation to a radius of 400 yards (365.8 m).

Mark 84 dapat membuat kawah selebar 15,2 meter dan sedalam 11 meter. Bom ini dapat menembus besi setebal 381 mm atau beton setebal 3,4 meter, tergantung dari ketinggian dijatuhkannya, dan dapat melontarkan kepingan mematikan sampai jarak 365,8 meter.
Kalau bom seperti ini diledakkan di tengah kawasan padat penduduk , tentunya banyak yang jadi korban. Selain itu bom ini juga tidak dilengkapi sirip pengendali, sehingga ketepatannya tergantung bidikan dari pilot ketika melepaskan bom ini.
Bom Mk 84 ini harga per buahnya adalah USD 3100, sekitar Rp 34 juta. Relatif murah dibandingkan dengan bom berpanduan seperti GBU-10, namun ketepatannya rendah. Bom tipe GBU dilengkapi pengendali dan pengarah laser sehingga ketepatannya lebih tinggi.
Berikut ini video ledakan bom Mk 84. Bom yang dipakai di video itu adalah laser guided, bukan free-fall.

Referensi: