Saya menggunakan beberapa gadget yang menggunakan memory card Compact Flash (CF) , SD dan MicroSD. Untuk membaca SD dan MicroSD tidak masalah, karena laptop dapat membaca SD dan MicroSD, namun untuk membaca CF tetap perlu card reader. Selama ini saya menggunakan card reader Mumuksu MCR-381 dan beberapa card reader murah meriah, namun akhirnya semua card reader itu tewas.
Mumuksu MCR-381 berfungsi baik dan cepat, namun card reader ini menggunakan konektor USB yang menggunakan kabel, padahal kabel yang berulang-ulang ditekuk lama-lama akan putus. Benar saja, card reader ini setelah beberapa lama mulai sering ngadat sehingga kabelnya mesti ditekuk dengan sudut yang tepat baru dapat berfungsi. Namun setelah beberapa waktu akhirnya tidak dapat menyala lagi.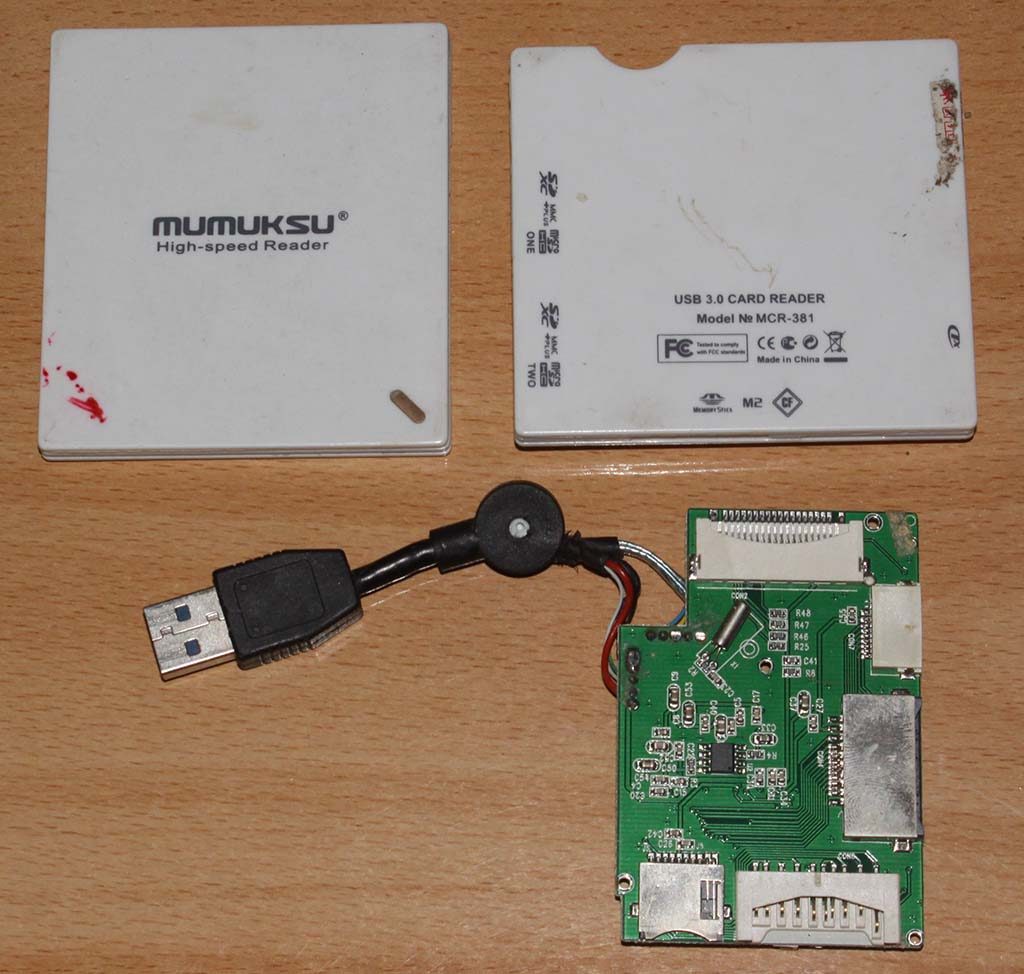 Secara teori bisa saja kabel dari konektor USB ke rangkaian dibongkar, kemudian diperbaiki satu per satu, namun nampaknya perlu waktu yang lama.
Incus dan K-One: merek merek ini nggak jelas, pada awalnya sudah rada susah membaca CF, akhirnya ngadat juga.
Berikut ini trio card reader murah-meriah merek Incus dan K-ONE: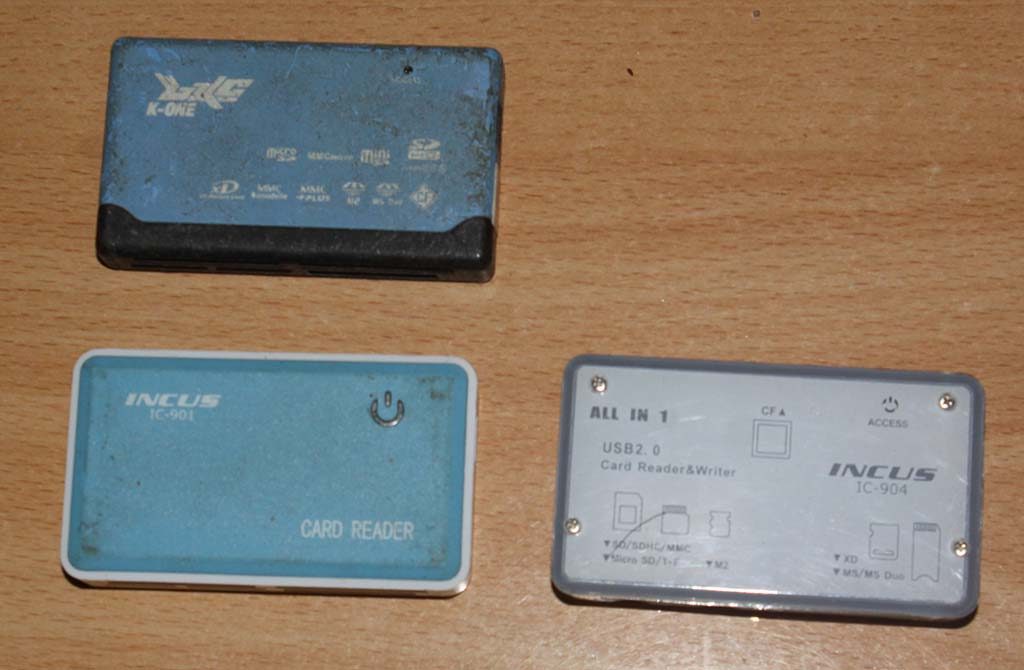 Ketiga card reader ini mempunyai susunan sambungan memory yang sama persis, kemungkinan besar menggunakan jeroan yang sama, hanya dibedakan di casing luarnya saja. Ketiga-tiganya saat ini sudah dalam status tidak berfungsi alias ngadat.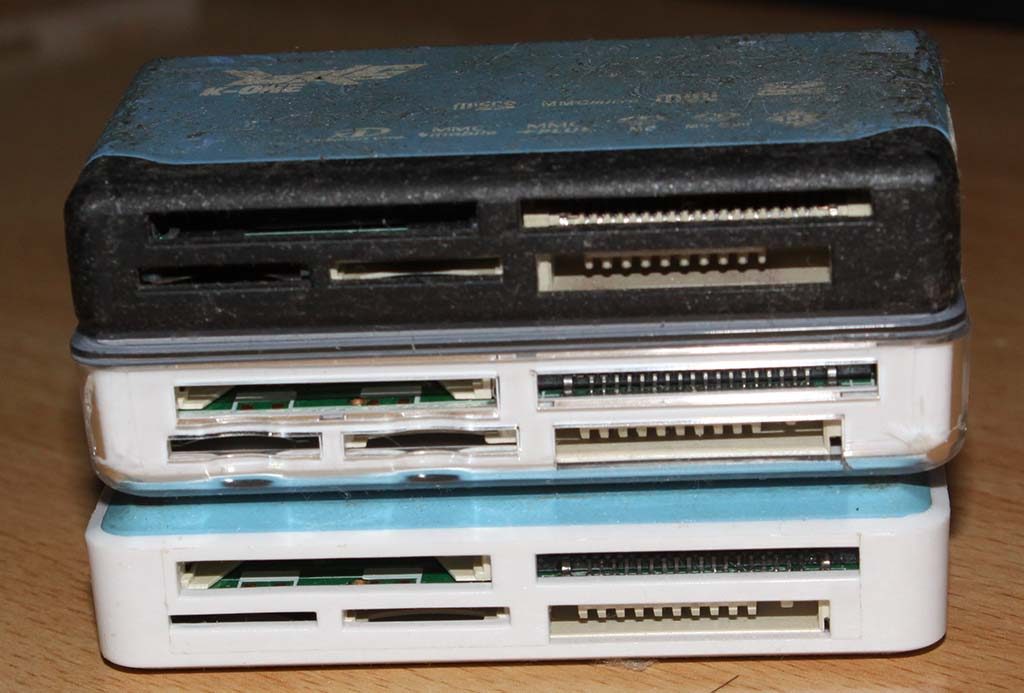 Dari pengalaman di atas akhirnya dicarilah card reader pengganti dengan spesifikasi utama adalah tidak menggunakan kabel built in. Kabel USB harus terpisah, supaya kalau putus mudah dicari gantinya. Akhirnya setelah dicari di Borma Setiabudi, ditemukan banyak merek yang menggunakan kabel USB built in, hanya ada 2 merek yang menggunakan kabel USB terpisah. Akhirnya diputuskan membeli yang rada bagus yaitu Mumuksu MCR-390.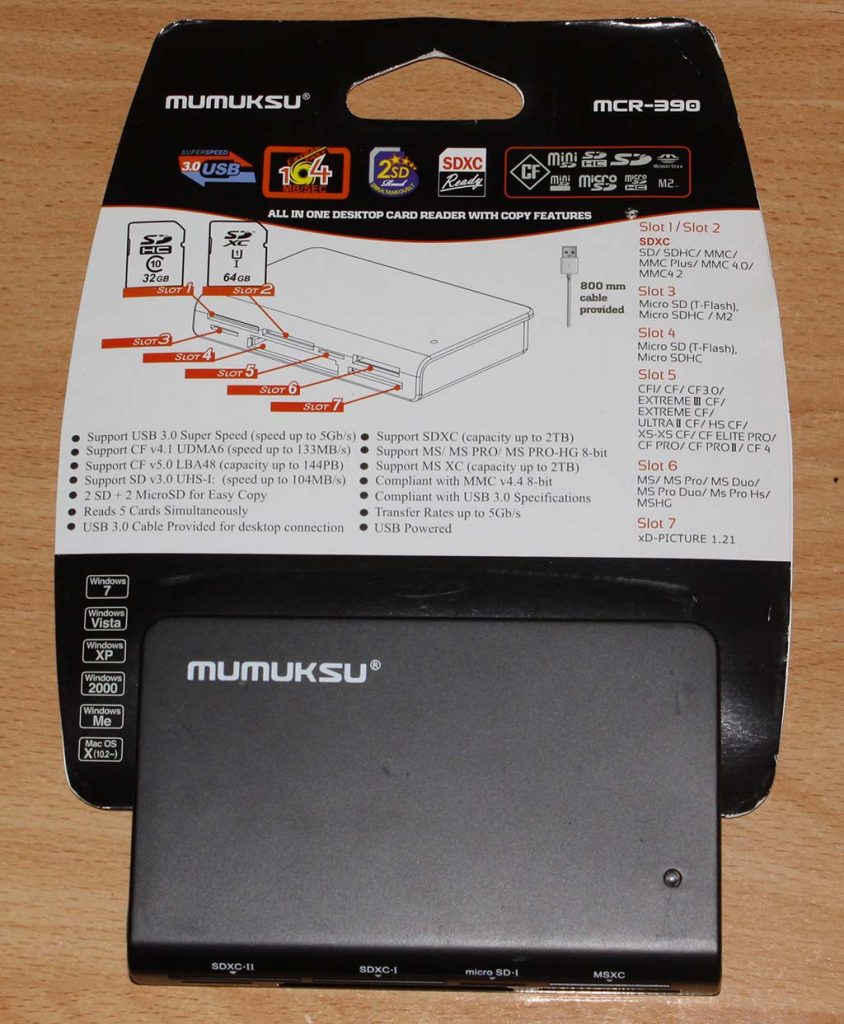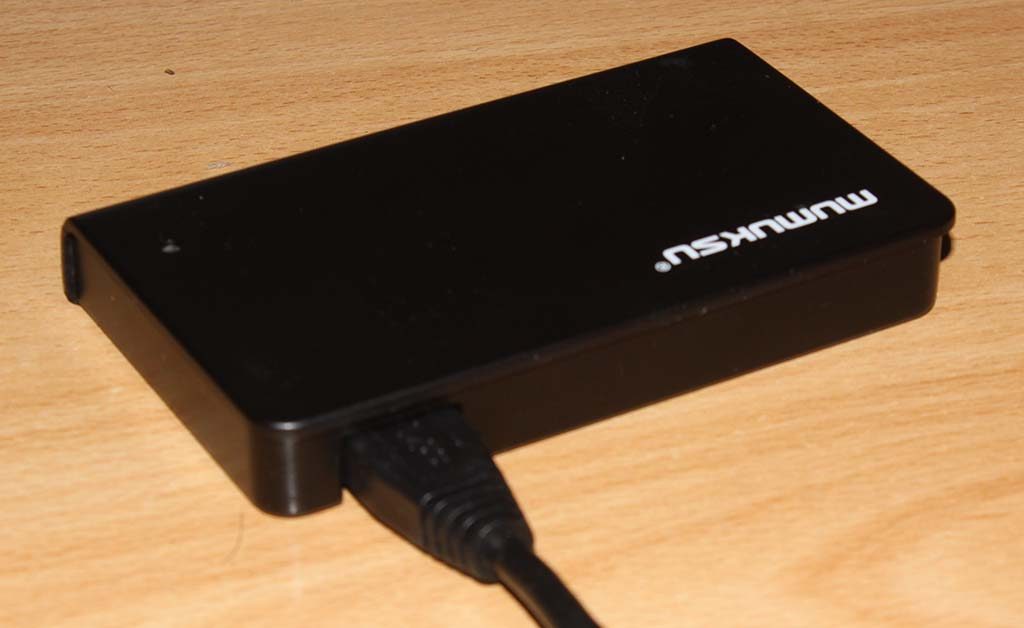 Berikut ini kemampuan card reader tersebut menurut apa yang tertulis di kotaknya:
Support USB 3.0 Super Speed (speed up to 5Gb/s,l
Support CF v4.1 UDMA6 (speed up to 133MB/s)
Support CF v5.0 LBA48 (capacity up to 144PB)
Support SD v3.0 UHS-I: (speed up to 104MB/s)
2 SD + 2 MicroSD for Easy Copy
Reads 5 Cards Simultaneously
USB 3.0 Cable Provided for desktop connection
Support SDXC (capacity up to 2TB)
Support MS/ MS PRO/ MS PRO-HG 8-bit
Support MS XC (capacity up to 2TB)
Compliant with MMC v4.4 8-bit
Compliant with USB 3.0 Specifications
Transfer Rates up to 5Gb/s
USB Powered
Slot 1/Slot 2
SDXC
SD/ SDHC/ MMC/
MMC Plus/ MMC 4.0/ MMC4 2
Slot 3
Micro SD (T-Flash),
Micro SDHC / M2
Slot 4
Micro SD (T-Flash),
Micro SDHC
Slot 5
CFI/ CF/ CF3.0/
EXTREME III CF/
EXTREME CF/
ULTRA II CF/ HS CF/ XS-XS CF/ CF ELITE PRO/ CF PRO/ CF PRO II/CF4
Slot 6
MS/ MS Pro/ MS Duo/
MS Pro Duo/ Ms Pro Hs/ MSHC
Slot 7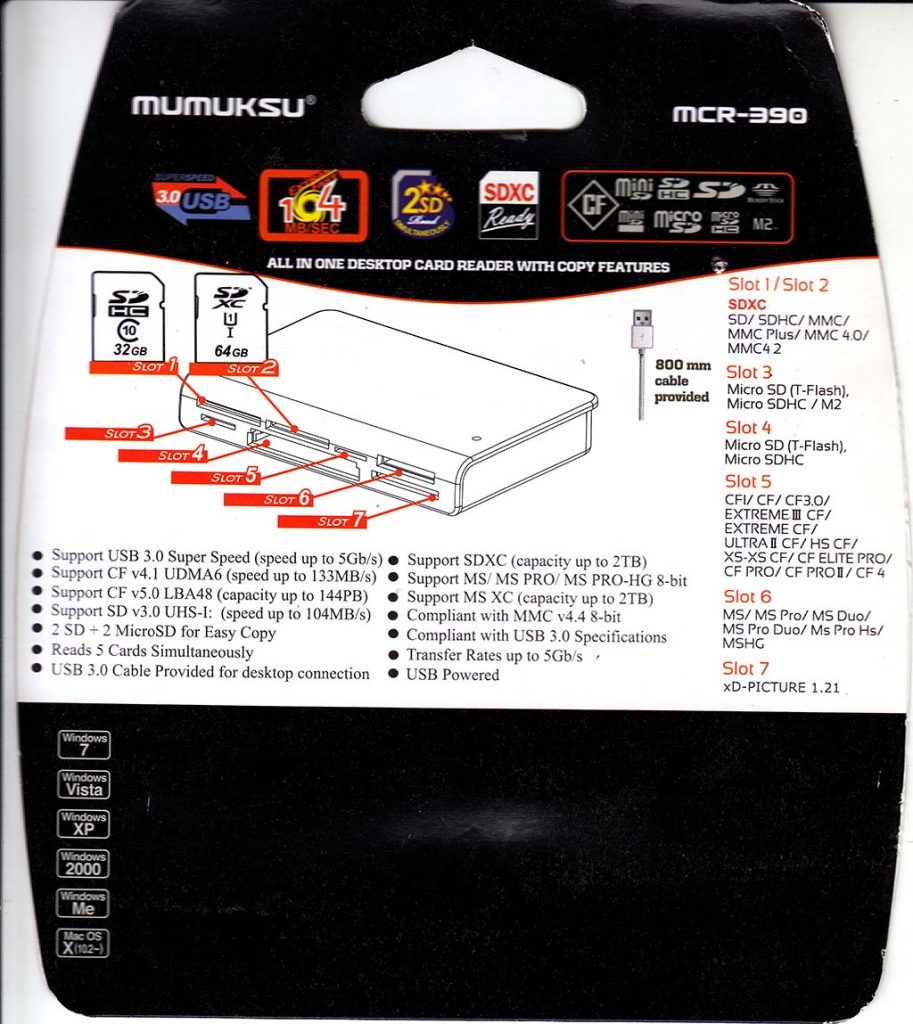 Sejauh ini card reader tersebut sangat memuaskan untuk membaca kartu memori Compact Flash yang dipakai di kamera Canon EOS 50D.