Berikut ini prosedur instalasi CAS (https://www.apereo.org/projects/cas) hanya untuk keperluan development , misal untuk pengujian fungsionalitas Single Sign On (SSO) di sebuah aplikasi, bukan untuk production.
Keterbatasan:
Webserver menggunakan WAR standalone, untuk production mestinya pakai Java Servlet seperti Tomcat
Database menggunakan cleartext, untuk production mestinya pakai database seperti LDAP
SSL certificate menggunakan self-signed. Untuk yang production mesti pakai yang CA signed.
Prosedur:
buat VM misal di VirtualBox, ukuran disk 10 GB cukup. Setelah instalasi CAS akan memakai space 4,05 GB
Install Ubuntu 19.10 , sebaiknya versi server (http://releases.ubuntu.com/19.10/ubuntu-19.10-live-server-amd64.iso) supaya lebih kecil.
CAS memakai Java, untuk itu perlu install java development kit (download 288 MB, memakai space 800 MB)
apt install default-jdk
install git:
apt install git
clone CAS:
cd /opt
git clone https://github.com/apereo/cas-overlay-template
cd cas-overlay-template
pilih CAS versi 6.1, kemudian lakukan build
checkout 6.1
./gradlew clean build
buat keystore
./gradlew createKeystore
copy konfigurasi CAS dari /opt/cas-overlay-template/etc/cas ke /etc/cas
./gradlew copyCasConfiguration
jalankan CAS sebagai executable WAR:
./gradlew run
Akses ke situs (misal https://192.168.0.202:8443). Akan ada peringatan karena menggunakan self-signed certificate. Klik saja di "accept the risk and continue"
Browse ke situs: https://192.168.0.202:8443/cas
Selanjutnya coba login ke CAS, dengan username:casuser, password:Mellon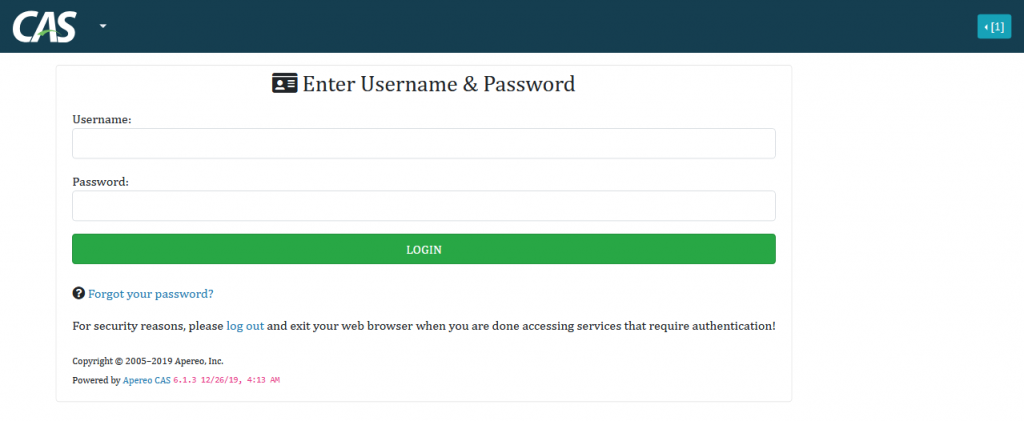 Jika loginlancar akan muncul tampilan:

Jika password salah akan muncul tampilan: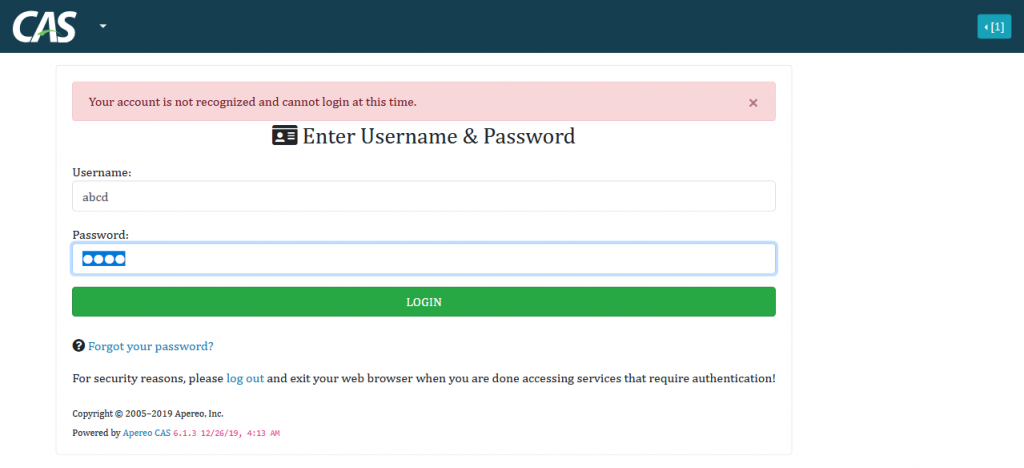 Menambah user & password baru:
Edit file /etc/cas/config/cas.properties, user dan password dapat ditambahkan dengan baris berikut:
cas.authn.accept.users=casuserz::Mellon,abcd::efgh, user1::123456, user2::abcdefg
Username dan password dipisahkan dengan '::', antar user dipisahkan dengan koma.
Konfigurasi client agar dapat diakses dari CAS client perlu tahap-tahap berikut:
perlu ditambah JSON service registry, untuk itu perlu aktifkan setting JSON service registry di file build.gradle kemudian build ulang CAS
Buat direktori /etc/cas/services berisi file-file JSON service registry
Tambahkan lokasi file JSON service registry ke file /etc/cas/config/cas.properties
nano /opt/cas-overlay-template/build.gradle
Edit file /opt/cas-overlay-template/build.gradle, edit supaya ada bagian ini:
dependencies {
compile "org.apereo.cas:cas-server-support-json-service-registry:${casServerVersion}"
}
Kemudian build ulang CAS
./gradlew clean build
Buat file /etc/cas/services/wildcard-1000 dengan isi sebagai berikut:
{
"@class" : "org.apereo.cas.services.RegexRegisteredService",
"serviceId" : "^(https|imaps)://.*",
"name" : "wildcard",
"id" : 1000,
"evaluationOrder" : 99999
}
Tambahkan baris berikut di /etc/cas/config/cas.properties:
cas.serviceRegistry.initFromJson=false
cas.serviceRegistry.json.location=file:/etc/cas/services
Pengujian dengan CAS client
Contoh konfigurasi CAS Client di Drupal 8.8.1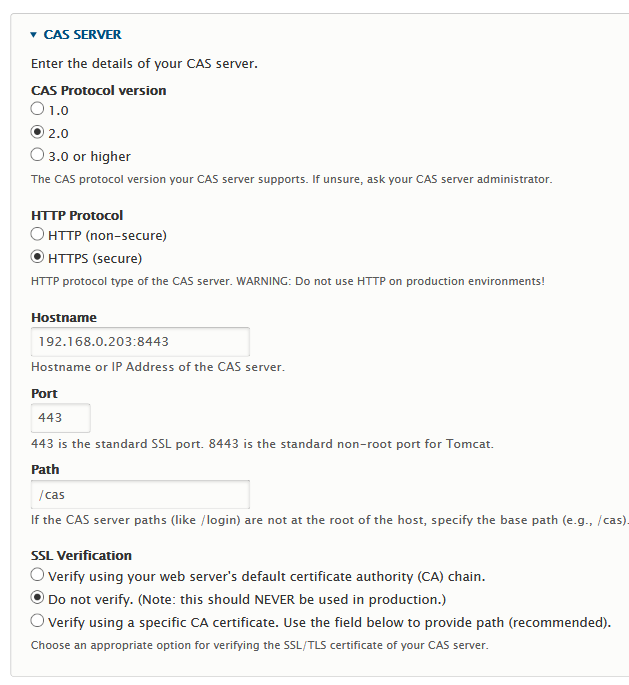 Referensi