Manual Keyboard HP GK200 Gaming Keyboard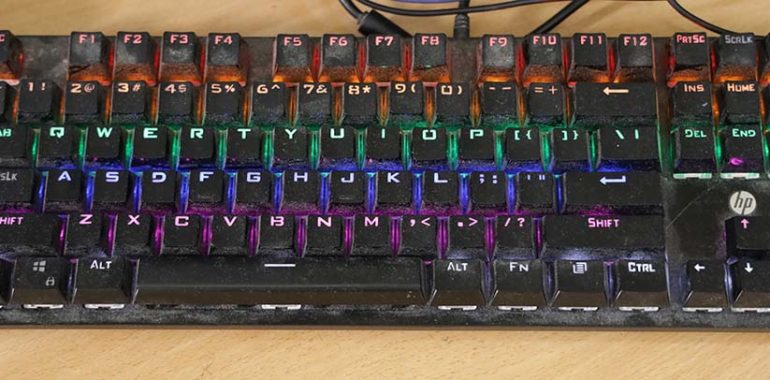 Berikut ini manual dan foto-foto keyboard gaming HP GK200. Keyboard ini 'mestinya' buatan HP (Hewlett Packard) . Cuma anehnya kalau dicari di situs HP (www.hp.com), keyboard ini susah dicari.
Penampakan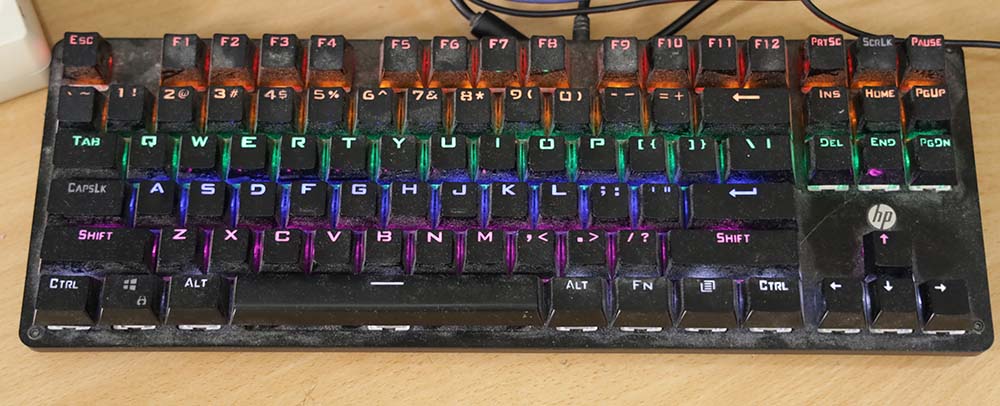 Manual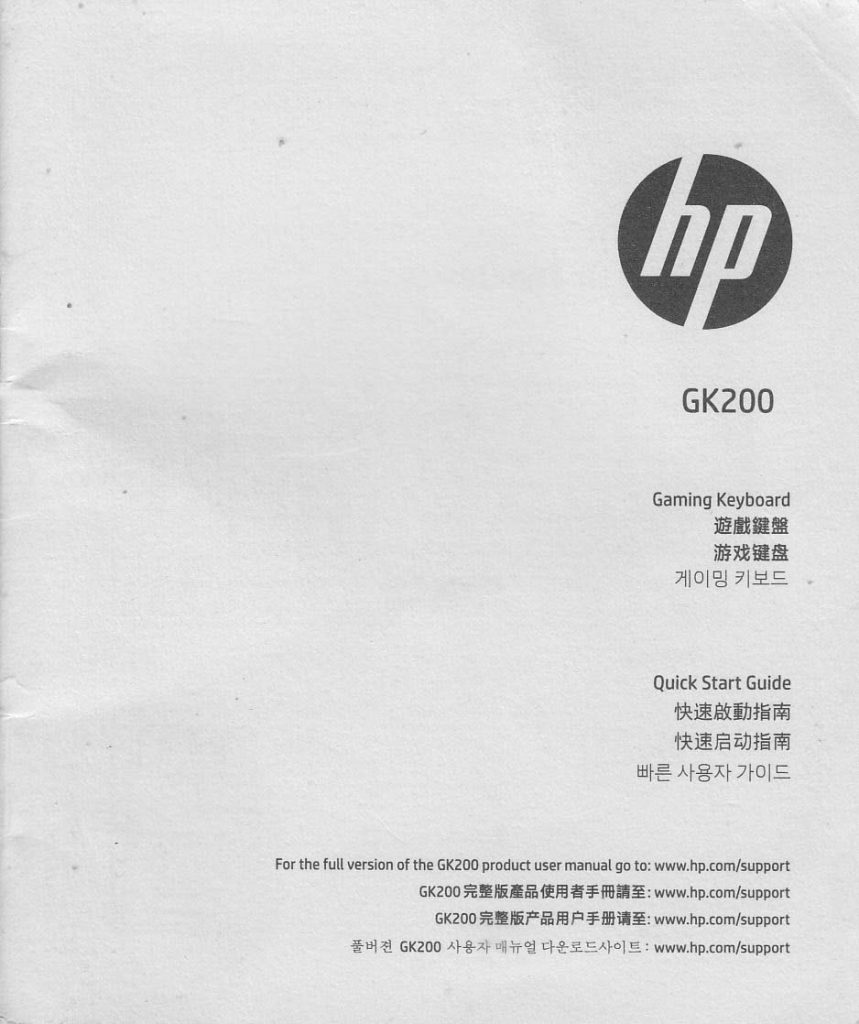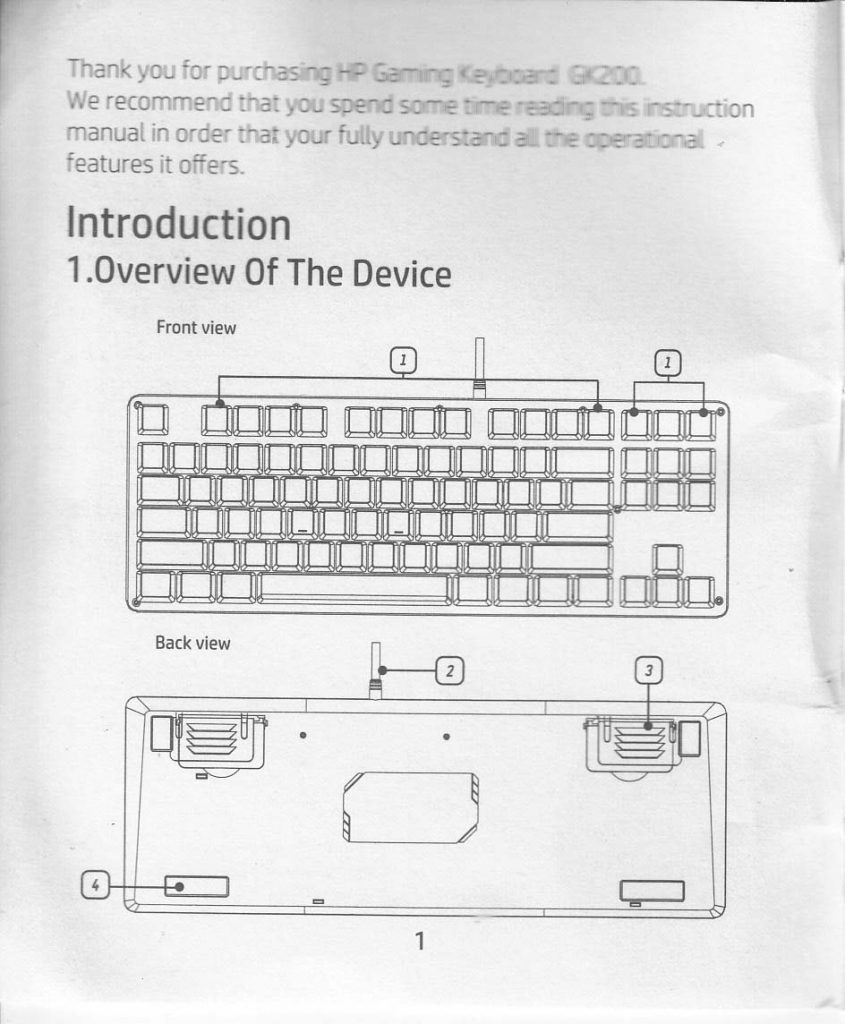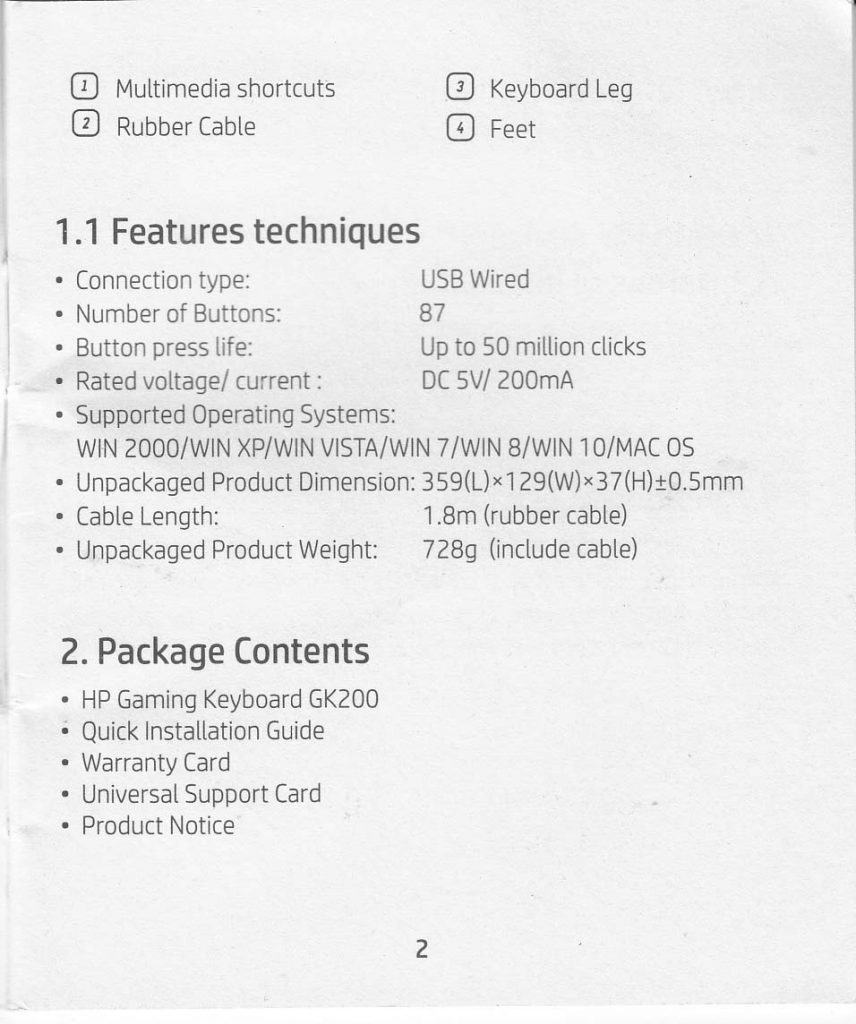 1.1 Features techniques
Connection type: USB Wired
Number of Buttons: 87
Button press life: up to 50 million clicks
Rated voltage/current: DC 5V/200mA
Supported Operating Systems: WIN2000/ WIN XP/WIN VISTA/WIN 7/Win 8/WIn 10/MAC OS
Unpackaged Product Dimension: 359(L) x 129 (W) x 37 (H) +- 0.5 mm
Cable Length: 1.8 m (rubber cable)
Unpackaged Product Weight : 728 g (include cable)
2. Package Contents
HP Gaming Keyboard GK200
Quick Installation Guide
Warranty Card
Universal Support Card
Product Noticew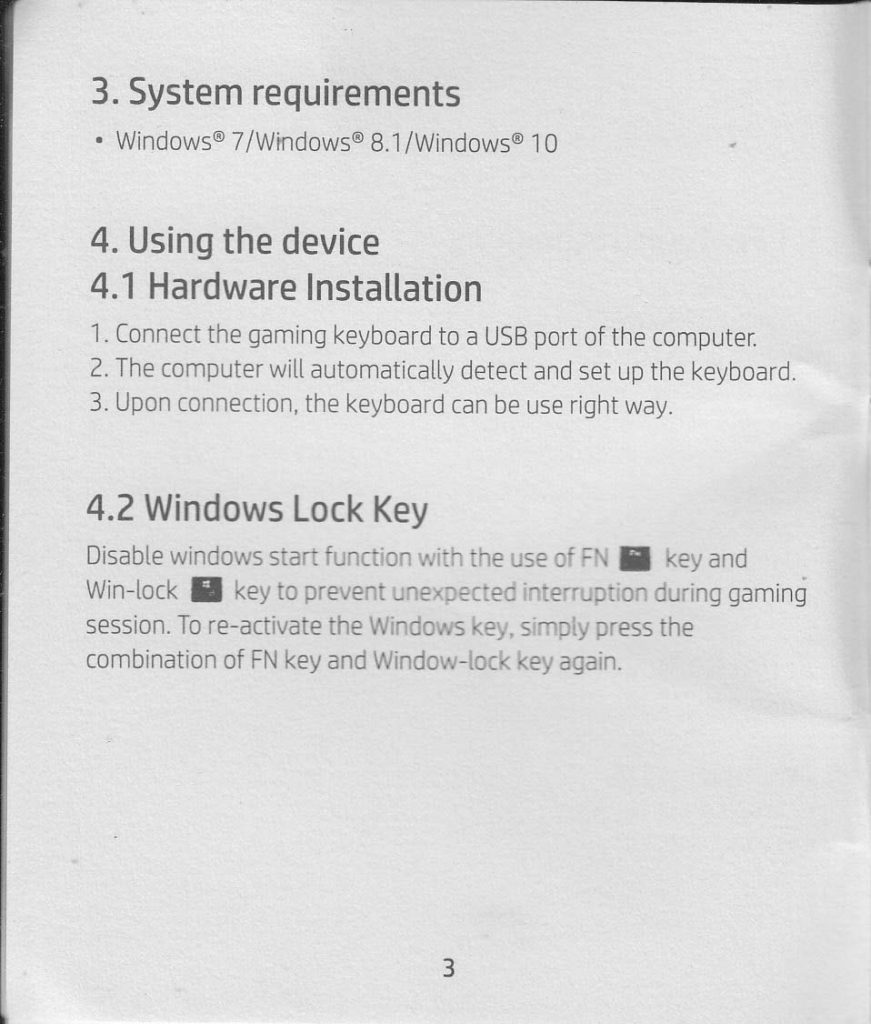 3. System requirement
Windows 7/Windows 8.1 / Windows 10
4. Using the device
4.1 Hardware Installation
1. Connect the gaming keyboard to a USB port of the computer
2. The computer will automatically detect and set up the keyboard
3. Upon connection, the keyboard can be use right away.
4.2 Windows Lock Key
Disable windows start function with the use of FN key and Win-lock key to prevent unexpected interruption during gaming session. To re-activate the Windows key, simply press the combination of FN key and Window-lock key again.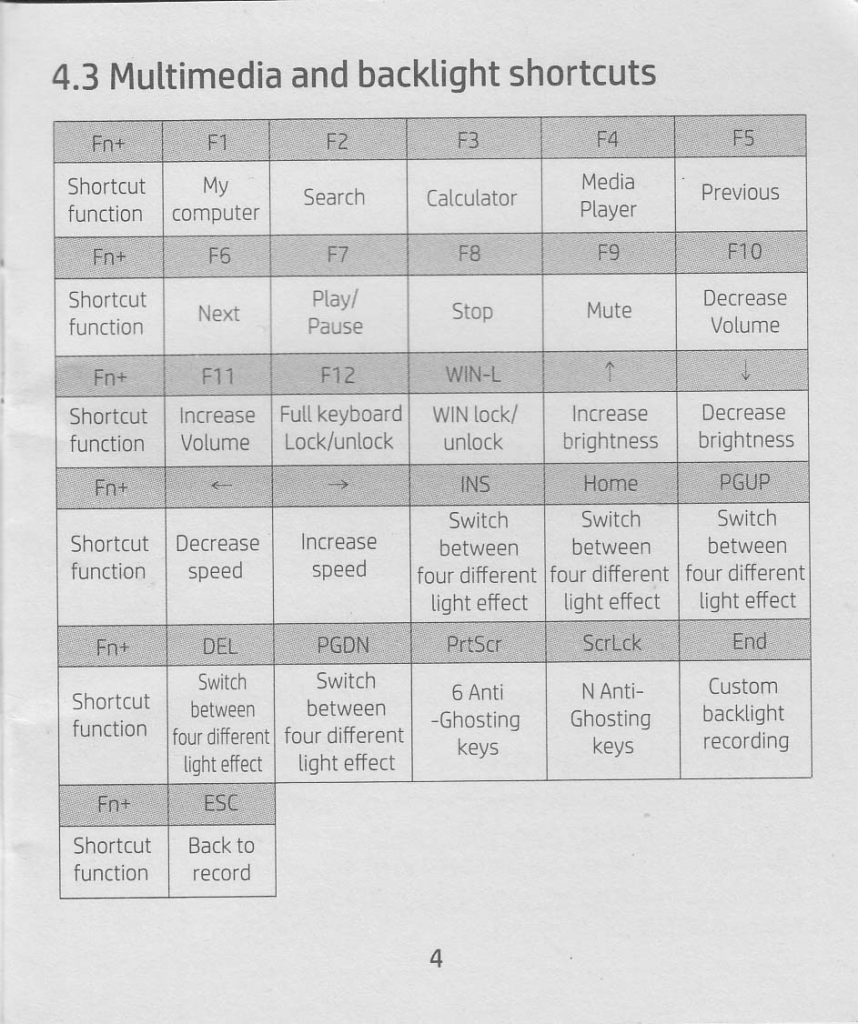 Fn+F1: My Computer
Fn+F2: Search
Fn+F3: Calculator
Fn+F4: Media player
Fn+F5: previous
Fn+F6: next
Fn+F7: play/pause
Fn+F8: stop
Fn+F9: mute
Fn+F10: decrease volume
Fn+F11: increase volume
Fn+F12: full keyboard lock/unlock
Fn+WIN-L: win lock/unlock
Fn+[up key]: increase brightness
Fn+[down key]: decrease brightness
Fn+[left arrow]: decrease speed
Fn+[right arrow]: increase speed
Fn+[INS]: decrease speed
Fn+[Home]: switch between 4 idfferent light effect
Fn+[PGUP]: switch between 4 idfferent light effect
Fn+[DEL]: switch between 4 idfferent light effect
Fn+[PGDN]: switch between 4 different lifht effect
Fn+[PrtScr]: 6 anti ghosting keys
Fn+[ScrLck]: N anti ghosting keys
Fn+[End]: custom backlight recording
Fn+[Esc]: back to record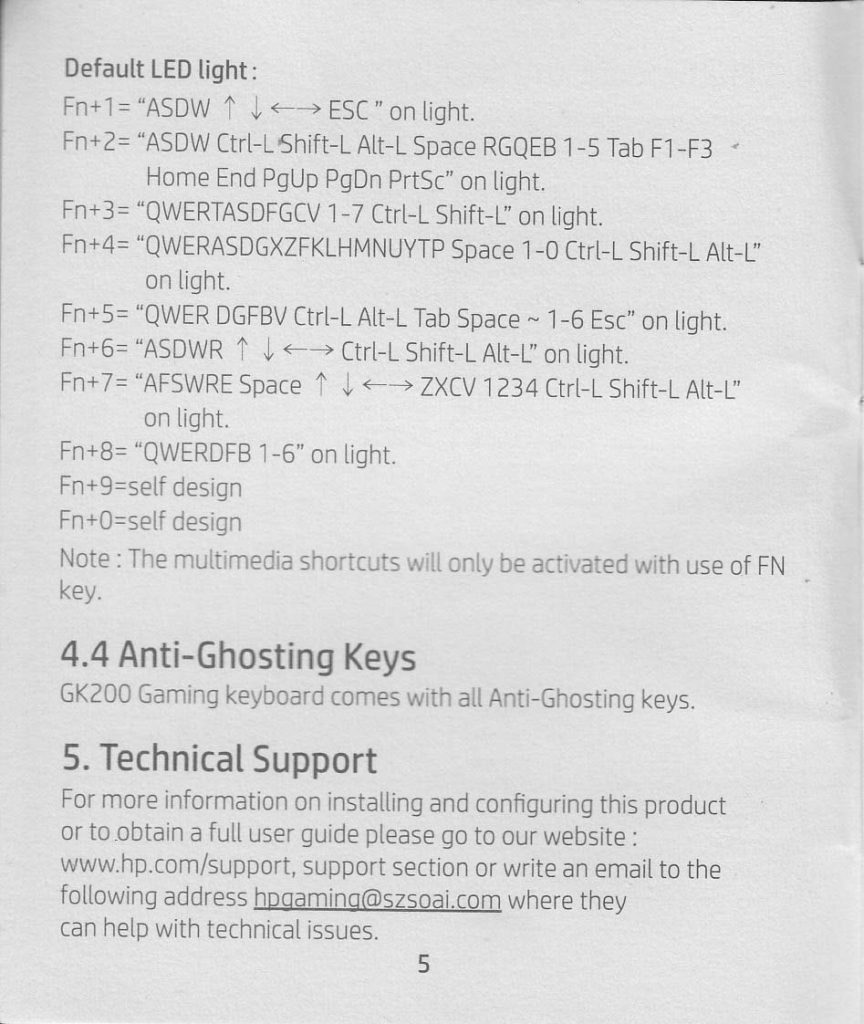 4.4 Anti Ghosting Keys
GK200 Gaming keyboard comes with all anti-ghosting keys
5. Technical Support
For more information on installing and configuring this product or to obtain a full user guide please go to our website www.hp.com/support, support section or write an email to the following address hpgaming@szsoai.com where they can help with technical issues.