Update 14 November 2015: Card reader Mumuksu MCR-381 akhirnya rusak, seperti dibahas di artikel Card Reader Mumuksu MCR-390 .
Banyak notebook saat ini sudah dilengkapi dengan SD card reader, sehingga kita tidak perlu lagi membeli SD card reader. Namun jika kita menggunakan Compact Flash memory card maka kita perlu menggunakan card reader khusus. Dari pengalaman menggunakan berbagai card reader, ternyata banyak yang abal-abal, hanya berfungsi sebentar terus mati, atau tidak kompatibel dengan card tertentu. Dari sekian banyak card reader yang saya coba, salah satu yang bertahan adalah Mumuksu MCR 381. Cukup cepat, kompatibel dengan USB 3.0 dan tidak rewel.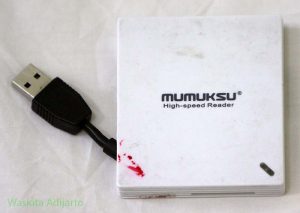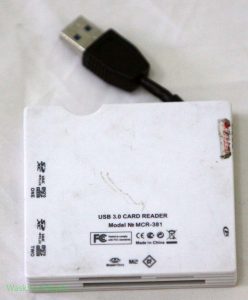 Dari hasil percobaan sejaun ini, barang ini terbukti kompatibel dengan Windows 7 dan Mac Book Pro. Penyakit barang ini adalah kadang mesti digoyang-goyang baru bisa nyambung dengan komputernya, kemungkinan ada kabel longgar di dalamnya atau konektor USBnya tidak pas.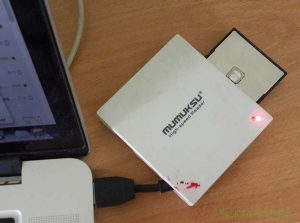 Detail spesifikasinya agak sulit dicari. Website resmi Mumuksu isinya tidak jelas ( http://mumuksutech.blogspot.com/ , kemudian pindah ke http://www.mumuksu.com) , nampaknya perusahaan ini hidupnya pas-pasan untuk bikin card reader, sehingga tidak sempat membuat website yang serius.
Berikut spesifikasi yang saya temukan: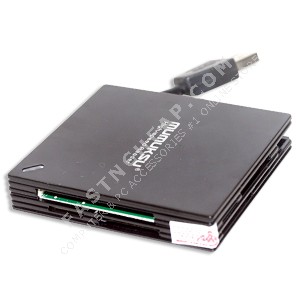 Manufacturer Code

316165005386

Shipping Weight

0.090 Kg

Dimensions

4 * 19 * 3
Description
Memory card reader is very practical because it has an integrated USB connector and can be inserted into the card reader was so easy to carry and require no additional wiring. Supports memory cards on the market such as SD / MMC, Mini and Micro SD, Memory Stick, M2 and XD Card. For Micro SD (T-Flash) and the Stick Micro (M2) without the addition of direct-slot adapter. This card reader supports SD SDXC latest technology. Uniquely from the card reader have a dual slot for SD / SDHC / SDXC and dual slot micro SD / SDHC and can read the 3 (three) as well as the installed memory card simultaneously.
Feature
2xSD and 2xMicroSD available
SDHC/MicroSDHC to SDHC/MicroSDHC
Compliant with the USB2.0/1.1 specification
Support CompactFlash Ultra DMA mode 7
Hidden USB 3.0 Cable
Support major memory cards including the SDXC and latest MSXC
Plug and play simplicity
Auto detect card memory
Support USB 3.0 Ultra Hi-Speed transfer 100MB/s
Support 5Gps super-SpeedU/480Mbps high-speed and 12Mbps full-speed transfer rates
Support bus-powered modes
Package
MUMUKSU USB3.0 MULTI-SD2GO CARDREADER (MCR-381)
Requirement
Windows 2000 SP4/XP SP3/2003/Vista/7, Mac OS X, Linux Fedora/RedHat or above